Some links may be affiliate links. We may get paid if you buy something or take an action after clicking one of our links.
April Showers bring May Flowers, and spring can be a challenging time to dress appropriately. You never know if the weather will be same when you wake up and when you go home. Therefor it is important to have some options when the seasons are changing. Whether you like to hike, run, play sports or are just an active person, here are some of the best men's spring jackets for you.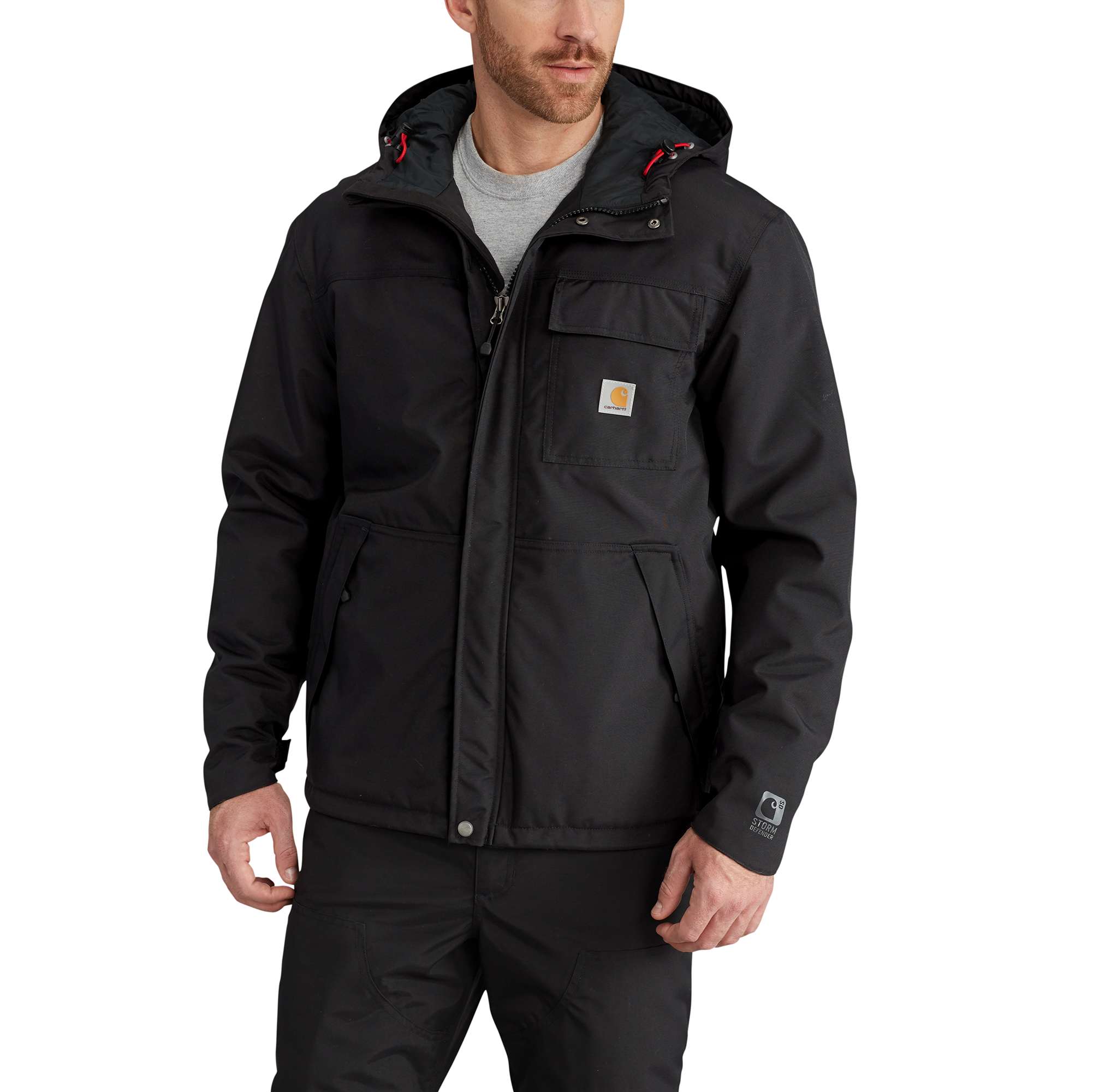 Carhartt is a brand you know you can trust. The company has been around since 1889 and uses their team of "Groundbreakers" to test their products. These are hardworking people in every walk of life who test their products. Then when you are shopping on their website you can see that products are 'Field Tested' which gives you their seal of approval.
The Shoreline jacket is waterproof and breathable, yet still heavy enough to keep you warm on a cold, rainy day. Carhartt has a handy chart on their website and shows this product is rated for a steady rain with its Storm Defender® technology. There are a few things I really love about this jacket. First is the fact that it has elastic everywhere to ensure a snug fit. Second is the waterproof map pocket on your chest. This makes it great for hiking or camping when you need small items handy. Lastly, the polyester mesh lining that is on the inside makes it so your sweat doesn't sit inside when you are working hard. No matter the task at hand this is a great choice for an active man's spring jacket.
Columbia is another brand that has been holding down the apparel game for awhile. The company was founded back in 1938 and specializes in active outerwear. Columbia has a long history of awards and sponsorship of professional sports teams. If it is good enough for them than I think it will be good enough for us.
The Men's Ascender is a great bang for your buck for softshell, water and winder resistant jackets. The jacket is 100% polyester so you can be sure you will dry in most environments. Not to mention it makes the jacket rather light so you can layer if need be. This is the hooded variety to keep you covered in the rain. The jacket also features adjustable cuffs and several zippered pockets to keep your hands free. If you are looking for a lightweight multi-use jacket than this is it.
North Face is another staple in the active wear community. North Face has been serving the world since 1966. Their mission statement is as follows:
Provide the best gear for our athletes and the modern day explorer, support the preservation of the outdoors, and inspire a global movement of exploration.
With a mission statement as strong as that one, it is no surprise that they are leader in the best men's spring jackets. They have dozens of options to fit every lifestyle choice.
The Men's Altier Down Triclimate Jacket by North Face is a puff jacket with a rain jacket. You can take these apart for either a lightweight jacket when the weather is cooler or you can have a rain jacket for when the rain clouds come in. The combination is warm enough to wear in early spring and really any activity that is above 0 degrees. If you are looking for a good multi-season jacket then you can't go wrong with this North Face jacket.
Nike has been around since 1964 and was started by a track-and-field coach with the athlete in mind. They are a titan in the athletic apparel world so it only makes sense that they will have great jackets for athletic men. Whether you are a runner, basketball player, soccer player or just a generally active person then Nike has you covered.
The Men's Dry Half-Zip Golf Shirt is more of a jacket than a shirt. This top comes with Nike's Dri-FIT technology to wick away moisture and keep you dry when you are sweating. The top is 100% polyester so you know it will be lightweight as well. Of all the options on this list, Nike comes with the most color options. So for men that are looking for the most fashionable choice than this is probably the best option for you.
Best Men's Spring Jackets for 2020
There are lots of options for men's spring jackets. If you are an active person and looking for options here are four great contenders. Many people define active differently, so don't think these won't work for you. Not only are these jackets designed for people on the move, they are made by companies that invest serious time and money into their development. They also have a proven history of providing great apparel that holds up to the test of time.
If you are looking to get help with other parts of your aesthetic, you can find all of our style guides here. If you have any other suggestions for men's jackets leave them in the comments below!
If you are interested in following along with all our conversations don't forget to like us on Facebook and follow us on Twitter.